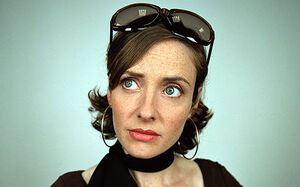 Toni

Peep Show life

Job
Pyramid Scheme Specialist
Lives at
London
Interests
Peter Gabriel, Sex, Washing Up Supplies, Dancing, Reading at Starbucks
Relationship
Tony, Super Hans, Jeremy

Peep Show appearances

Actor
Elizabeth Marmur
First appearance
Warring Factions
Last appearance
Wedding
Toni (Elizabeth Marmur) is the next-door neighbour of Mark and Jeremy, and an object of their lust throughout the first series of the show. She is separated from her husband Tony at the beginning of Series 1, but the couple reunite during Series 2, although they are still seen arguing. Her father died when she was aged three and she may subconsciously be seeking a "daddy substitute".
During her childhood she regularly went skiing, and has two sisters; one with cancer, and one half sister whom Jeremy briefly dated. She is opinionated and sexually liberal, and engages in casual sex with Jeremy on several occasions. In an early episode, she engages in pyramid selling of cleaning products, but at the end of Series 2 she is shown working as a supervisor in a call centre.