Super Hans

Peep Show life

Job
Musician
Lives at
Unknown
Interests
Making music, relaxing, drugs, sex
Relationship
Toni, Nancy

Peep Show appearances

Actor
Matt King
First appearance
Warring Factions
Latest appearance
New Year's Eve
Super Hans is a fictional character in the television series Peep Show, and he is portrayed by Matt King.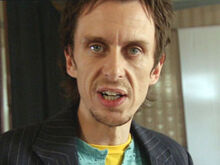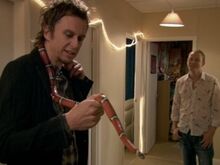 Super Hans loves crack. HE'LL SUCK FOR CRACK.
Characterization
Edit
Jeremy's band-mate and friend, "Super" Hans likes to think of himself as being superior to others and is an untrustworthy shyster and fantasist. He regularly uses recreational drugs, and experiences a crack cocaine addiction in the second series, later referenced again in the final episode of the third series and in the seventh series.
His contentious opinions often contradict Jeremy's own ideas. He works in a recording studio in the first series. At the end of series 5 he joins a religious cult loosely based on Scientology. During the finale of series 6 we discover that he is father to eight-year-old twins with a German woman. Hans was inspired by the character Danny from the film Withnail and I.
Character History
Edit
Super Hans is Jeremy's band-mate and friend, Super Hans likes to think of himself as being superior to others and is an untrustworthy and fantasist. Super Hans finds Mark quite peculiar and usually refers to him with obscure nicknames such as, "Professor Yaffle", "The Abdominiser" and "Captain Haddock". He had a strained relationship with his father who once "locked (him) in the airing cupboard to monitor the home brew".
German Connection
Edit
Throughout the series, it is made clear Super Hans has a relation with Germany. When Hans reveals he has twins in the last episode of the sixth season, he remembers they were "fünf, zwei years ago", which implies him having had a relationship with a german woman. He mentions, in the last episode of the seventh series that he and his new love of his life speak "The language of love, and a little bit of German". When he's off the crack and Jez asks him how he's coping, he replies "Easy, easy like a sontag morgen".