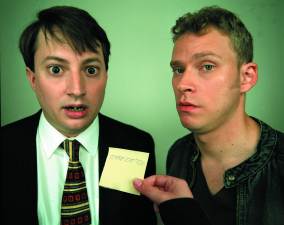 Peep Show is an award-winning British sitcom that stars David Mitchell and Robert Webb . It is broadcast on Channel 4 in the UK. Written by Jesse Armstrong and Sam Bain, the series explores the lives of Mark Corrigan (Mitchell) and Jeremy "Jez" Osborne/Usbourne (Webb; the spelling of the character's surname is uncertain).
It is filmed entirely from the physical points-of-view of the characters, and viewers can hear the interior monologues of Mark and Jez.
Series 1
Edit
Series 2
Edit
Series 3
Edit
Series 4
Edit
Series 5
Edit
Series 6
Edit
Series 7
Edit
Series 8
Edit
Ad blocker interference detected!
Wikia is a free-to-use site that makes money from advertising. We have a modified experience for viewers using ad blockers

Wikia is not accessible if you've made further modifications. Remove the custom ad blocker rule(s) and the page will load as expected.