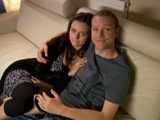 Elena

Peep Show life

Job
Part-Time Legal Secretary
Lives at
London
Interests
DILFS, Music, Spelt Bread, Sex
Relationship
Jeremy, Gail

Peep Show appearances

Actor
Vera Filatova
First appearance
Jeremy at JLB
Last appearance
Das Boot
Elena
is a Russian émigré who lives in the same block of flats as
Mark
and
Jeremy
.
She works part time as a legal secretary in human rights law and deals marijuana on the side. She has a sexual attraction towards single fathers despite having a long-term relationship with Gail. She likes spelt bread as she is wheat-intolerant.
Ad blocker interference detected!
Wikia is a free-to-use site that makes money from advertising. We have a modified experience for viewers using ad blockers

Wikia is not accessible if you've made further modifications. Remove the custom ad blocker rule(s) and the page will load as expected.