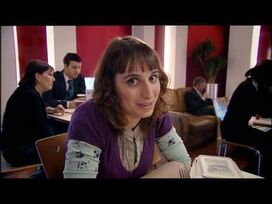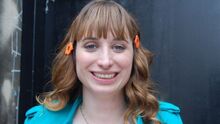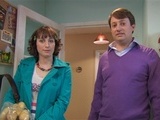 Dobby (Debbie)

Peep Show life

Job
IT Misfit
Lives at
Unknown
Interests
Computer Games, Laser Tag, RPG, DVDs
Relationship
Mark, Gerard, Simon

Peep Show appearances

Actor
Isy Suttie
First appearance
Spin War
Last appearance
Gregory's Beard
Dobby
(real name Debbie) is
Mark
's post-
Sophie
love interest. She is an IT technician at
JLB Credit
until the entire office staff are laid off. In many ways she is similar to Mark in that she is an outsider - a girl who likes video games and fantasy roleplaying. However, she is more outgoing than Mark and her desire for adventure puts a strain on their relationship at times. She is also quirky, as evidenced by her style of clothing and use of "personal cheese" in the lunchroom when she and Mark first meet.
Although their relationship is waylaid by various awkward situations and Mark's primary love rival Gerard (with whom Mark forms the Dobby club), by the end of series 7 Dobby has agreed to move in with him. Throughout series 8, a variety of events seem to conspire to keep Dobby from moving in to Mark's flat. After a disastrous weekend in the Quantocks during which Mark brings Jeremy along, she accepts a job offer and heads to New York with her ex-boyfriend Simon.
Ad blocker interference detected!
Wikia is a free-to-use site that makes money from advertising. We have a modified experience for viewers using ad blockers

Wikia is not accessible if you've made further modifications. Remove the custom ad blocker rule(s) and the page will load as expected.