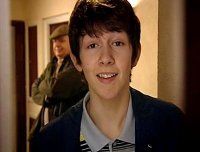 Barney is the teenage cousin of Sophie. He appears in the Series 5 episode Spin War. He originally appears to return Mark's half of the wedding tuna (heart break tuna) and then joins Jeremy and Super Hans's band as a personal assistant and chief song writer which leads to him performing oral sex on Super Hans. He is very similar in personality, appeareance and desperation to impress Jeremy to Sophie's brother Jamie.
Throughout the series, he forms a storyline, and goes unnoticed as a talented musician.
Ad blocker interference detected!
Wikia is a free-to-use site that makes money from advertising. We have a modified experience for viewers using ad blockers

Wikia is not accessible if you've made further modifications. Remove the custom ad blocker rule(s) and the page will load as expected.